Clear Ceramic Braces – Pelham, NH
Choose a Discreet Solution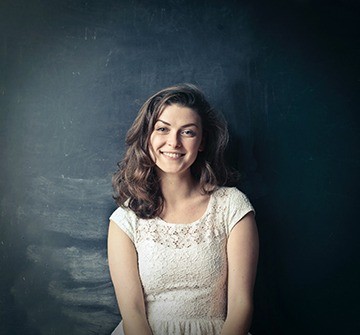 Besides the health of your child's teeth, their positioning is equally important, but few people are born with naturally straight smiles. Whether from genetics or another issue, your child deserves to have a healthy, straight smile. Braces are a convenient solution to move the teeth into their ideal positions. Unfortunately, metal braces are very noticeable, which can make your child worry about their appearance. There is a more discreet solution. Clear ceramic braces in Pelham, NH blend in with your child's enamel to provide an effective treatment to help your child feel confident while on their journey to a straight smile.
Why Choose Simply Pediatric Dentistry & Orthodontics for Clear Ceramic Braces?
Specialize in pediatric dentistry and orthodontics.
Certified orthodontist in-office.
Complete orthodontics from one location.
What are Clear Ceramic Braces?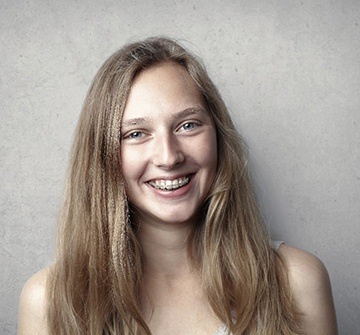 Ceramic braces use the same concept as traditional orthodontics. Brackets are attached to your teeth to hold an arch wire in place. Small adjustments are made to the wire to apply continual pressure to your teeth to gradually reposition them. Although this is effective, many children are embarrassed by brackets and wires.
Clear braces use ceramic brackets instead of metal ones. This allows them to match your child's enamel to blend in when they speak, smile, or eat. An arch wire is attached to each bracket, which is held in place using an elastic band. Although an arch wire is still used, the braces can be customized to be white or clear to make them far less noticeable than traditional metal braces.
Benefits of Clear Braces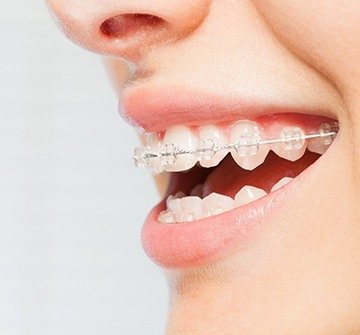 Many children and teens prefer ceramic braces because they provide certain advantages that aren't possible with traditional treatments, such as:
More versatile than Invisalign.
Less noticeable than metal braces.
Affordable and effective.
Suitable for a variety of bite and alignment issues.
Is My Child a Candidate for Clear Braces?
Clear braces can be used to correct several bite and alignment concerns; however, your child will still need a consultation with their orthodontist in Pelham to ensure they are the right choice. There are many factors that must be considered when determining your child's candidacy for clear braces, such as if they need treatment for both arches. In some cases, they can't be used on the bottom teeth, but they can still be used on the top.
Your orthodontist will consider all the factors to make the best recommendation for your child. They will take the time to discuss their options to help you make an educated investment for your child's dental future.
How Much Do Ceramic Braces Cost?
There isn't a set price for clear braces because the cost is determined by various factors, like the severity of your child's orthodontic needs. We'll provide you with an estimate and discuss your payment options, like using third-party financing with CareCredit or your dental insurance. We'll work on your behalf with your insurance company to file the necessary forms to reduce your out-of-pocket cost.
If your child wants a less noticeable treatment, contact our orthodontic office today to see if they can benefit from clear braces.