Orthodontics – Pelham, NH
Comprehensive Orthodontic Care for Young Smiles
At one point or another, most children will require some type of orthodontic care, whether it's to correct crooked teeth or a misaligned bite. While it's easy to think that straightening the teeth will only help your child's smile look better, the benefits go way beyond what you can see.
Straighter teeth are much easier to clean, which can help dramatically lower your child's risk for cavities. Correcting jaw problems can also improve your child's ability to speak and eat in addition to giving them a more symmetrical and attractive smile. Thanks to Dr. Alkhoury's decades of experience, no matter what your child needs, he'll be able to deliver beautiful results and a smooth experience from beginning to end. To learn more about your child's options and get them started with treatment, contact us today to schedule a consultation to discuss orthodontics in Pelham, NH.
Why Choose Us for Orthodontics?
Your child will be looked after by a certified orthodontist
Every treatment is custom-designed for each patient
We accept all insurance including Medicaid
Phase 1 Orthodontics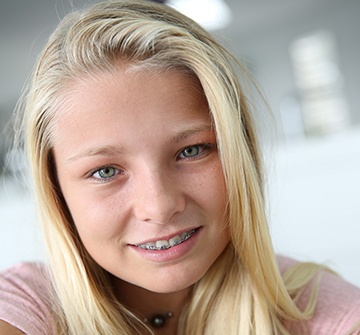 Dr. Alkhoury recommends that every child should receive an orthodontic evaluation around the age of seven. This will allow him to catch any alignment issues in your child's remaining baby teeth as well as see signs that others might develop for their incoming adult teeth. To ensure their permanent teeth come in as straight as possible, he might prescribe them Phase 1 Pediatric Orthodontics. For this, your child will wear varying oral appliances to bed that will accomplish a number of goals. With this treatment, Dr. Alkhoury can correct problems with the baby teeth, guide the erupting adult teeth, and even help a child stop sucking their thumb.
Learn More About Phase One Orthodontics
Traditional Orthodontics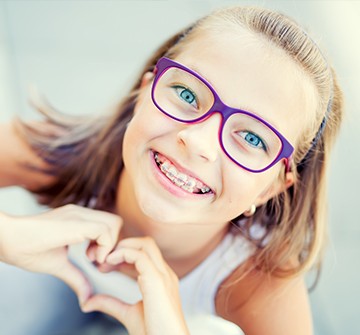 Metal braces have been used for decades, and the reason for this is very simple: they work! They still use the same trusted method: wires specially bent by Dr. Alkhoury apply a small force to the teeth that slowly shifts them into their new positions, and these are held in place using brackets bonded to each tooth. Thanks to their affordability and durability, they are still one of the best treatments available today to help children correct misaligned teeth and bites.
Learn More About Traditional Braces
Clear/Ceramic Braces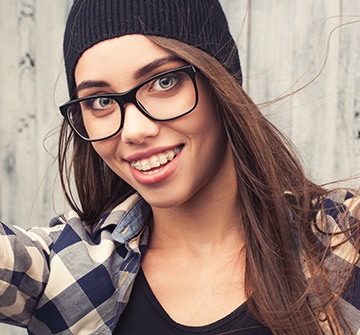 Clear/ceramic braces move the teeth the same way as traditional metal ones, but the materials used to make the appliance are designed to have a much more subtle appearance. Translucent brackets hold tooth-colored wires in place that both blend seamlessly into the smile. These are the preferred option for more image-conscious children, and they're still able to deliver the same quality of results as regular braces. However, they are more delicate compared to metal braces, so they are typically only recommended for older children.
Learn More About Clear/Ceramic Braces
Invisalign Clear Aligners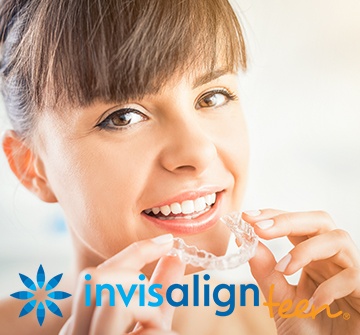 Invisalign is the answer to many a teen's prayers, as it's able to effectively straighten the teeth without using noticeable metal brackets and wires. Instead, a patient just has to wear a series of custom-made, see-through plastic aligner trays that practically disappear when worn on the teeth. Even better, your child will be able to eat and brush their teeth like normal because the trays can be easily taken off. Invisalign needs to be worn for about 20-22 hours a day to be as effective as possible, so it is only recommended for older children with dependable self-discipline.
AcceleDent Accelerated Orthodontics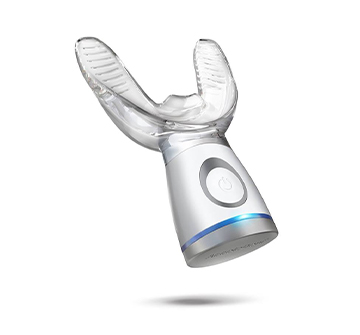 AcceleDent is an easy way to dramatically shorten a child's orthodontic treatment so they can achieve their final results months ahead of time. All a child has to do is place their mouth on a small handheld device that delivers micro-pulses which stimulate the bone-remodeling process necessary to shift the teeth. It only needs to be used for about 20 minutes a day, and it can easily speed up tooth movement by up to 50%!
Retainers & Oral Appliances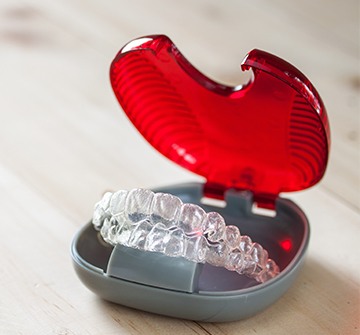 Dr. Alkhoury is able to use a wide variety of orthodontic appliances in addition to braces to help your child's smile reach its full potential. For example, if your child loses a tooth early, a space maintainer will make sure their adult teeth have enough room to come in properly. An RPE can be used to widen the dental arch to fix/prevent any teeth crowding, and retainers will ensure that newly shifted teeth stay in place after the braces have come off.