Tooth-Colored Fillings – Pelham, NH
Seamlessly Creating Healthier, Cavity-Free Smiles
Try as you might, it's likely that your child will develop a cavity at some point. In fact, the CDC reports that tooth decay is the number one most common chronic childhood illness in children, with about 43% of kids between the ages of 2 and 19 having experienced at least one cavity in their lifetime. Thankfully, at Simply Pediatric Dentistry & Orthodontics, we're dedicated to seamlessly creating healthier, cavity-free smiles with tooth-colored fillings in Pelham! These biocompatible composite resin fillings are safer and more aesthetically pleasing than amalgam silver fillings, and our team will go above and beyond to make sure your child is comfortable while they get the care they need. Give us a call today to schedule your child's next appointment if they have a cavity!
When Are Fillings Necessary?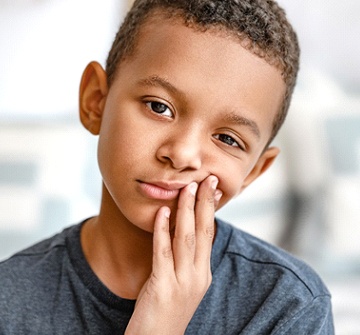 Your child will need a filling if they have a cavity. Cavities form when acids from sugary foods and plaque begin to burn through the enamel, which can eventually expose the sensitive inner layers of the tooth. To avoid infections and keep the tooth healthy, we'll need to remove the decayed tissues and replace them with a filling. During each of your child's checkups, we'll carefully inspect their mouth for the earliest warning signs of tooth decay. Similarly, your little one may have a cavity that needs to be treated if you notice symptoms like:
Very small white, brown or dark spots on the teeth.
A persistent toothache that lasts for several days.
Sharp tooth sensitivity to foods or drinks that are hot, cold, or sweet.
Many parents are surprised to hear that treating cavities in baby teeth is just as important as it is in permanent teeth. Remember, teeth can't heal themselves, so tooth decay won't go away on its own. Baby teeth don't typically begin to fall out until the age of 6, and some will stay in place until the age of 10 or 12, meaning your child may suffer through years of a painful, decayed baby tooth before it falls out. Untreated cavities can also lead to serious infections or early extractions, which can negatively impact overall oral development.
What Are the Benefits of Tooth-Colored Fillings?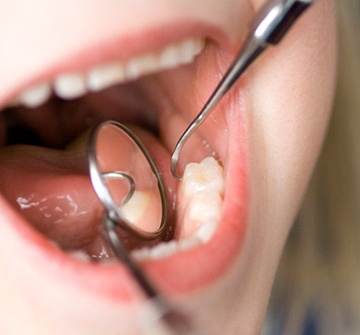 More and more practices are opting to use tooth-colored fillings instead of amalgam ones, and it's easy to see why! Here are some of the most important benefits tooth-colored fillings offer:
Biocompatible: Tooth-colored fillings are made from a composite resin, which consists of ultra-fine particles of dental ceramic, glass, and other materials that won't irritate your child's mouth. Composite resin also bonds well to natural tooth structure, which effectively seals out bacteria.
Natural looking: As its name suggests, tooth-colored fillings can be color-matched to the natural shade of your child's teeth for practically invisible results.
Minimally invasive: Compared to amalgam fillings, composite resin requires less enamel removal and won't damage the tooth when exposed to hot or cold temperatures.
Reliably durable: With the right care, tooth-colored fillings can easily last 10-15 years or more.
100% safe and metal-free: Tooth-colored fillings are 100% metal-free and mercury-free, making them much safer and an ideal choice for children with metal allergies or sensitivities.
How Much Do Tooth-Colored Fillings Cost?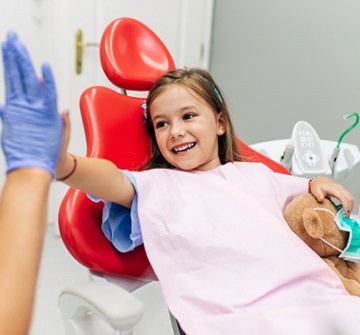 There are several factors that will influence the cost of tooth-colored fillings, such as how large the filling needs to be and how many fillings will be needed. As always, we'll review the cost of treatment before we begin so you'll know exactly what to expect. Most dental insurance companies will cover 60-90% of the cost of preventive services for children like fillings, and our experienced team will be happy to ensure that your benefits are being maximized. If you are uninsured, we'll go over alternative payment options to help minimize your out-of-pocket expenses.