Special Needs Dentistry – Pelham, NH
Every Smile
Has a Home Here
At Simply Pediatric Dentistry & Orthodontics, we take great pride in being able to care for absolutely every child who comes through our doors, including those with physical, mental, behavioral, or sensory special needs. Our team has plenty of experience treating children of all ages and can help even the most fearful child enjoy a stress-free appointment. We're also happy to make any accommodations necessary to ensure a comfortable visit--just give us a call and tell us about your child ahead of their next appointment with special needs dentistry in Pelham, NH.
Why Choose Us for Special Needs Dentistry?
Happy to serve children of all ages
Experience team with years of advanced training
Multiple types of sedation available to ensure calm visits
The Special Dental Needs of Special Children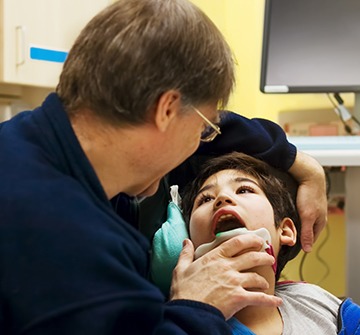 Children with special needs tend to suffer from higher rates of dental problems compared to the general population for a number of reasons. For one, many are physically incapable of brushing and flossing their teeth, while others suffer from debilitating dental phobia. Establishing consistent oral hygiene is essential to the long-term health of any child, but it's especially important for little ones with special needs because their smiles tend to be more at risk for cavities, gum disease, and tooth loss.
How We Can Help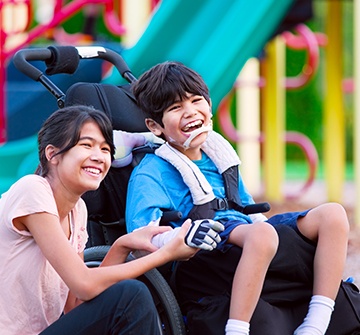 For our special patients, our team has developed an effective two-part strategy that has already seen fantastic results with other children. Firstly, we work closely with parents to help their child develop an oral hygiene routine at home. Secondly, we do everything we can to help a child feel comfortable in our dental office so they can receive professional care without experiencing any fear or anxiety. Every treatment plan is custom-designed for each unique child, and we're happy to do whatever we can to help your little one smile.
Sedation Dentistry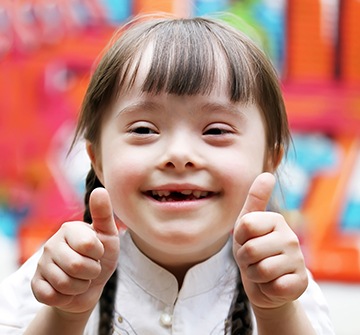 Sedation dentistry is an excellent tool when it comes to helping special needs children feel completely relaxed while in the chair. We have multiple options available that can be fully tailored based on your child's needs, including nitrous oxide sedation, oral conscious sedation, and even general anesthesia. With each approach, your child's safety and comfort will always be our top priorities. Click on the link below to learn more about our sedation services, and feel free to give our team a call anytime!