Pediatric Emergency Dentist – Pelham, NH
Providing Your Child With Specialized Emergency Oral Treatments
In the midst of an urgent situation like a dental emergency, it can be difficult to calm your child down while also making the best decision for their oral health. That's where our team at Simply Pediatric Dentistry & Orthodontics comes in. Dr. Bakr Amin is our board-certified pediatric dentist that has specialized experience treating smiles that are still growing. So, when you find yourself in an urgent situation, don't hesitate to contact our office and schedule an appointment with her! Our team will provide your little one with the fast care they need.
How to Handle Common Dental Emergencies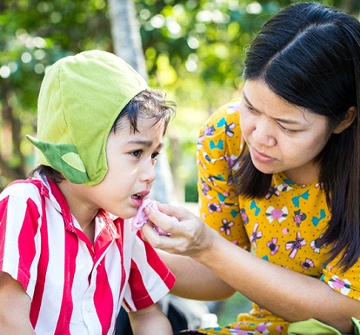 No matter what dental emergency your child faces, it's important to contact our office immediately so we can schedule an appointment and provide you with over-the-phone first-aid guidance. We've also included some basic tips to help you prepare for your child's emergency appointment below.
Toothaches
Toothaches are often a sign of an infection burrowed beneath the surface of your child's teeth. To help ease their pain, you can place a cold compress on the area for 10 minutes on, 10 minutes off, or provide them with an over-the-counter children's pain reliever.
Chipped/Broken Tooth
Retrieve the broken-off portion of your child's tooth and rinse it underneath a stream of water. Place it in a sealable bag or container and bring it to the appointment. If the damage has created a sharp edge, you can place a piece of sugar-free gum or orthodontic wax over the area.
Knocked-Out Tooth
If your child loses a tooth due to trauma, even though it's a temporary tooth, it's still important for you to visit an emergency dentist in Pelham. Retrieve the tooth from the ground, being sure to only handle it by the biting surface, and store it in a sealable container of milk or salt water. Place a piece of gauze over the area if there's bleeding.
Lost Filling/Crown
While a lost filling or crown may not call for a same-day appointment, it's still crucial for your child to visit our office as soon as possible to have their restoration repaired or replaced. In the meantime, you can temporarily rinse and re-place it on their tooth using a dab of denture adhesive.
How to Prevent Dental Emergencies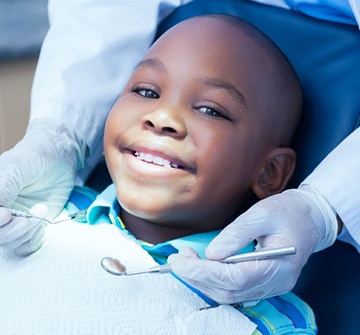 Here are a few tips and tricks to help ward-off the threat of dental emergencies:
Keep your little one from chewing on hard items like pens, pencils, and hard candies.
Help them maintain a nutritious diet.
Encourage them to keep up with daily brushing and flossing.
Take them to visit their dentist for children in Pelham every six months for checkups and cleanings.
If you have any other questions, be sure to contact our office! Our friendly staff will be more than happy to speak with you.