Pediatric Emergency Dentist — Pelham, NH
Keeping Pelham Children's Smiles Safe
Despite your best efforts to protect your children from harm, dental emergencies can happen for a variety of reasons that are often outside of a parent's control – maybe your daughter fell and banged a tooth on the sidewalk while playing with friends, or your son bit down too hard on a popcorn kernel by mistake. Whatever the case, one thing is certain: the team at Simply Pediatric Dentistry & Orthodontics is devoted to keeping Pelham children's smiles safe. Please don't hesitate to contact our team for assistance. We attend to emergency cases as soon as possible!
Why Choose Simply Pediatric Dentistry & Orthodontics for Emergency Dental Care?
Experienced & Highly-Trained Dental Professionals
Same-Day Emergency Appointments Available
First-Aid Guidance Over The Phone If Needed
What to Do in a Dental Emergency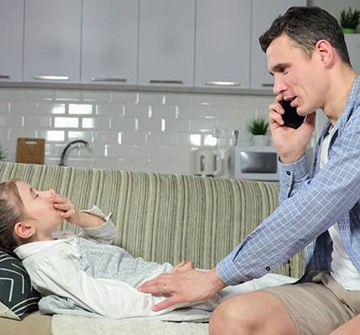 Stay calm. It's important to show your child that you're in control of the situation and you will take care of them. From there, follow these steps:
Step 1: Call Us Right Away! Be sure to call our dental office ASAP so we can give you step-by-step instructions on how to handle the situation. We'll also likely schedule a same-day appointment to see your little one right away.
Step 2:Head to Our Office for an Emergency Exam. When you arrive, one of our dental professionals will help your child ASAP. They'll focus first on addressing any discomfort and then work quickly to evaluate the situation.
Step 3:Receive a Custom Treatment Plan. Next, they'll fully explain their findings and how they recommend treating the situation. Once you've reviewed all options, including the estimated prices and treatment durations, we will help create a customized plan.
Step 4:Get the Prompt, Gentle Care Your Child Needs. Our experienced team offers a wide variety of treatments in-house, so we'll start working right away to protect your child's oral health and get them back on track to a happy, healthy smile.
If your son or daughter is experiencing heavy, sustained bleeding or their jaw is possibly broken, please go straight to an emergency room in your area for immediate help.
The Most Common Dental Emergencies
First, we trust you and your child's judgment in these situations. If they're in pain and upset, we want to see them and provide relief. Any situation that involves damaged, knocked-out or very painful teeth should be treated with the utmost urgency! However, if you're still unsure whether their issue qualifies as an urgent dental problem, here are some of the most common situations that our dentists would classify as "emergencies":
Understanding the Cost of Pediatric Emergency Dentistry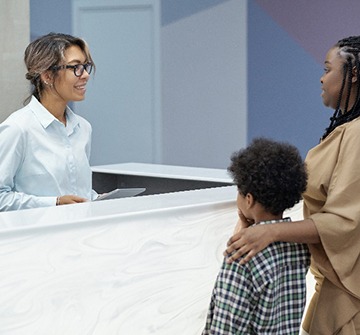 It's very common for parents to be concerned about the cost of their child's dental care. Rest assured, our Pelham pediatric dental team is here to make navigating the financial side of their treatment as stress-free as possible. Not only will we do our best to provide accurate estimates of the price, but we will also review all of the financial solutions available and answer any questions you have along the way. You can also learn more important information about the cost of pediatric emergency dentistry right here!
Every Dental Emergency is Different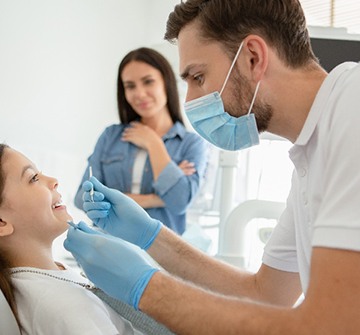 Parents bring their children to our Pelham emergency dentist for numerous reasons, from persistent toothaches to completely knocked-out teeth. That's why there isn't a flat fee! Before providing you with a number, we need to assess the source and extent of the problem. We also need to pinpoint what the best restorative treatment (or combination of treatments) is so that we can effectively and efficiently restore their healthy, functional, and beautiful smiles.
Does Dental Insurance Cover Dental Emergencies?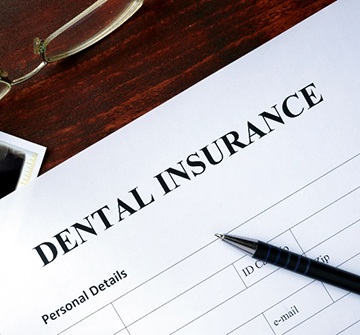 If your dental plan includes benefits for your child, then we encourage you to bring your insurance information with you to their appointment. Since dental plans aren't the same from patient to patient, this allows us to better understand your coverage and how it pertains to the care your child needs. The good news is that many providers cover a portion of the cost of essential restorative treatments, which can help reduce your out-of-pocket expenses.
Other Options for Making Dental Emergencies Affordable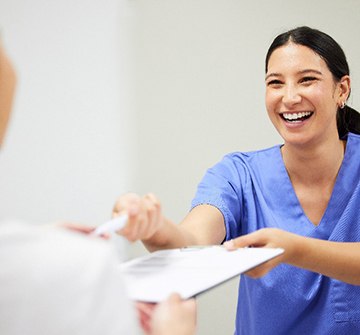 The good news is that dental insurance isn't the only financial solution available to your family. At Simply Pediatric Dentistry and Orthodontics, we also:
Partner with the Well Sense Health Plan
Accept MassHealth
Welcome Flexible Financing with Lending Point
Offer Periodic Specials
If you are interested in learning more about any of these options, then we recommend giving our team a call. From there, we can review the details, answer your questions, and help you take the next step!
Taking Care Of Your Child's Smile Can Save You Money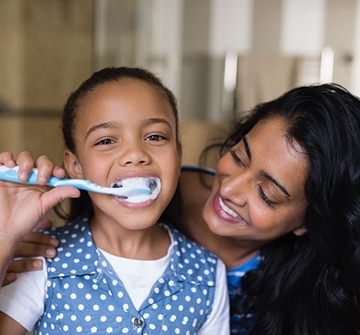 Remember, the large majority of dental emergencies – from knocked-out teeth and loose restorations to painful toothaches – are preventable with the right best practices in place. As a result, proactive measures like having your child wear a mouthguard during sports, brush their teeth for two full minutes each morning and evening, and get a dental checkup and cleaning biannually can help protect their smile and your wallet! If you ever have a question about their oral hygiene routine, including what products they should be using, don't hesitate to get in touch with our team so we can help.
How to Prevent Dental Emergencies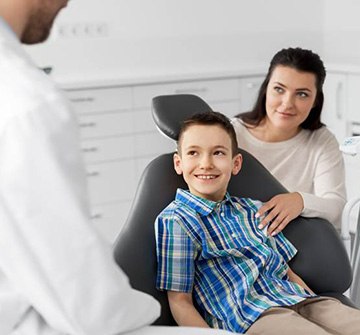 While dental emergencies will never be 100 percent preventable, there are ways to minimize your family's risk, including the following:
Don't let your child use their teeth to open packaging; show them how to use scissors safely instead.
Instruct your child not to bite the ice in their drinks. Also, limit exposure to foods that are overly tough, chewy, or sticky.
Always make sure your child wears a mouthguard when participating in sporting events.
Schedule checkups and cleanings every six months here at Simply Pediatric Dentistry & Orthodontics! By inspecting smiles regularly, our team can detect small dental problems before they're able to grow into serious ones.
Dental Emergency FAQs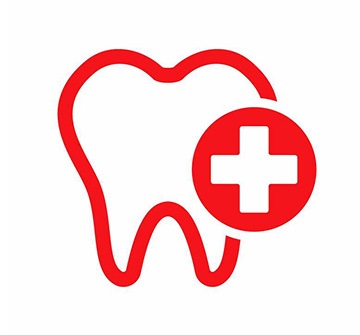 Reading through the above information can give you valuable insight into the types of dental emergencies we are ready to help your child address. However, to be as prepared as possible, you may still have some questions on your mind. Well, we want to help! Keep reading for the answers to some of the most frequently asked questions from parents regarding a pediatric dental emergency in Pelham.
Will My Child's Toothache Go Away on Its Own?
Despite popular belief, toothaches do not heal on their own. In fact, a once painful toothache that has "disappeared" may actually be an indicator the infection has damaged the nerve of the tooth! Therefore, it's always a good idea to schedule an appointment with your child's dentist right away. From there, they can determine the root of the problem and put a plan in place to restore the look and function of your little one's smile.
Should My Child Visit the Emergency Room First for Dental Emergencies?
If a dental emergency has resulted in a potentially life-threatening condition, like difficulty breathing or a broken jaw, then you should take your child to a local emergency room first. However, ERs typically don't have dentists on staff, meaning they won't be able to address dental emergencies effectively. Therefore, with all other smile-related injuries (lost filling, knocked-out tooth, etc.), your first call should be to a pediatric emergency dentist in Pelham.
My Child's Chipped Tooth Doesn't Hurt. Do They Still Need a Dental Visit?
Even if their chipped tooth doesn't hurt, it's a good idea to schedule an appointment with their dentist. Although they may not be in any pain, the inner layers of their tooth could be vulnerable to damage. Plus, a chipped tooth may break further without professional attention, resulting in sensitivity, soreness and overall discomfort. With that being said, your child can most likely afford to wait a day or two until their appointment if needed. Just make sure they don't put off seeing their dentist for too long.
What Should I Keep in My Child's Emergency Dental Kit?
From a lost filling to a knocked-out tooth, dental injuries can be anxiety-inducing. To make the entire experience as stress-free as possible, preparation is paramount. You should keep an emergency dental kit for your child, and everyone in the family, accessible with these essentials:
A storage container large enough to fit a tooth or restorations
Sterile gloves
Gauze pads
Cotton balls
Dental cement (or other temporary filling material)
Denture adhesive
Petroleum jelly
Anti-inflammatories such as ibuprofen
Orajel
Floss
An ice pack or cold compress
Contact information for a pediatric emergency dentist