Sedation Dentistry for Kids – Pelham, NH
Keeping Little Ones
Comfortable & Calm
You don't need a degree in dentistry to know that many children aren't exactly fans of going to the dentist. In fact, some are downright terrified, which can turn routine appointments into stressful experiences for children and parents alike. If your child normally feels nervous visiting the dentist, we can use safe and effective sedation dentistry to help calm their lingering nerves. Thanks to this and our team's warm and gentle approach, we can promise that your child's next appointment will be a breeze from check-in to checkout. To learn more about their options for sedation dentistry in Pelham, NH and which one might be best, contact us today.
Why Choose Us for Sedation Dentistry for Kids?
Sedation available to help with any procedure
Ready to serve children of all ages
Happy to welcome children with physical, mental, & behavioral special needs
Nitrous Oxide Dental Sedation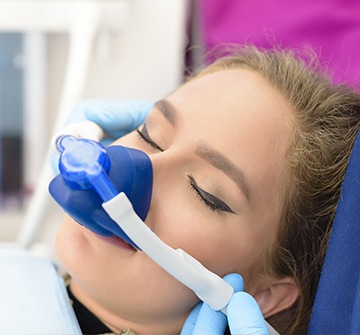 You've probably heard nitrous oxide referred to by a sillier name—laughing gas! Thankfully, when children breathe in this colorless, odorless gas, it won't reduce them to giggles, but rather help them quickly relax in the dental chair. The gas is administered through a small nasal mask that stays on for the entire appointment. Nitrous oxide is so gentle that it can be safely used with even the youngest children, plus it has no lingering effects once the mask is removed, meaning your child can go straight back to school after their appointment.