Fluoride Treatment – Pelham, NH
Offer Your Child's Teeth Another Layer of Protection
For some, children's oral hygiene starts and ends with brushing. However, it takes a lot more to keep your little one's smile decay-free throughout the years, especially as their fine motor skills develop! Thankfully, our Pelham pediatric dentist can offer your child's teeth another layer of protection with fluoride treatments. To learn more about fluoride – from what it is to how it benefits your kid's smile – keep reading. Otherwise, you can get in touch with our team to schedule an appointment!
Why Choose Us for Fluoride Treatment?
Led by accomplished children's dentist Dr. Bassel Boulos
Comprehensive dentistry under one roof
Happy to accept & maximize all insurance plans, including Medicaid
What Is Fluoride?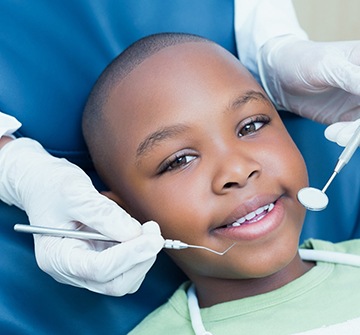 Fluoride is well-known for its decay-preventing abilities, but what exactly is it? Well, it's a naturally-occurring mineral! It was discovered in the early 20th century, and researchers quickly realized it helped prevent decay. This began a rigorous testing process to determine the right levels to add to oral hygiene products like toothpaste and mouthwash. Our dentist for kids in Pelham also offers concentrated doses of it at the end of routine checkups and cleanings to help prevent cavities too!
How Is Fluoride Treatment Applied?
Luckily, applying the highly-concentrated fluoride gel is painless, quick, and easy! First, one of our talented team members will gently clean and dry your little one's teeth. Next, they will coat each surface of their teeth with a thin layer of the fluoride varnish. That's it! The mixture sets so quickly that you won't have to worry about your child accidentally swallowing any either.
The Benefits of Fluoride Treatment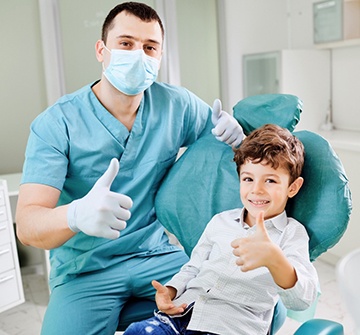 Naturally, the biggest benefit of fluoride treatments in Pelham is the added insurance they offer your child's teeth. As their fine motor skills develop, they might have a hard time effectively and thoroughly brushing their teeth. Of course, you don't want them to develop a cavity or two in the meantime, which is why it's important to add additional preventive measures, like routine cleanings and fluoride treatments, into the mix. It will be well worth it – studies have shown that children with fluoride treatments are 43% less likely to develop tooth decay!