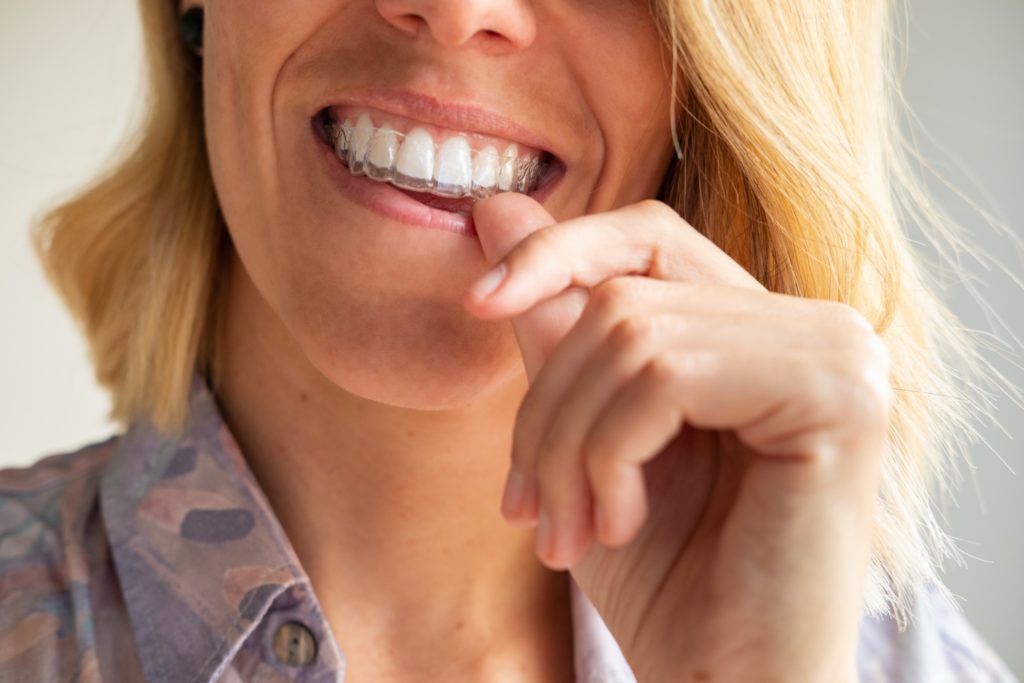 Want to shave months off of your Invisalign treatment timeline? Whether it's because you have a special event, like a wedding, in your near future or because you simply don't want to wait any longer than you need to for your dream smile, there is a way. Keep reading to learn a few insider tips for speeding up your time with braces!
#1. Ask About AcceleDent
AcceleDent is a system that is designed to help your teeth move quicker by distributing micro pulses. Essentially, this stimulates blood flow and enhances the rate at which the jawbone remodels. Therefore, the addition of AcceleDent to your treatment plan can help you finish your treatment much more quickly!
#2. Wear Your Aligners for 22 Hours a Day
The recommended wear time for Invisalign is 20-22 hours a day. However, the more often you wear them, the better. That's because your teeth are only getting the pressure they need to move into their new and improved positions when your aligners are in. So, committing to wearing them for 22 hours a day can make a big difference in helping your teeth track properly, which can prevent re-treatments that add weeks or months to your initial timeline.
#3. Change Your Trays on the Correct Days
Depending on the specifications of your treatment, you may change your aligners every 7, 10, or 14 days. You should NOT attempt to speed up the process by changing them sooner than your orthodontist recommends. Doing so can cause you to fall off-track, potentially requiring you to invest more time and money in Invisalign.
#4. Clean Your Teeth (and Your Trays!) After Each Meal
Throughout your entire time with clear aligners, you should remain committed to cleaning both your teeth and your trays after each meal. This is an essential part of preventing serious dental problems, like tooth decay and gum disease. If either of these arise, your treatment will need to be put on hold until they are addressed. The good news is that the below best practices can help prevent that from happening:
Brush your teeth with a soft-bristled toothbrush after each meal.
Floss and rinse with mouthwash after each meal.
Rinse your aligners with cool, clean water before and after each meal.
Soak your trays in an orthodontist-recommended cleaning solution weekly.
Never eat or drink (with the exception of water) with your aligners in.
#5. Store Your Aligners Properly
The fact that Invisalign's clear aligners are removable is both good and bad. It's good because it makes cleaning your teeth much more stress-free, but it's bad because that makes them easy to misplace. To combat this, put them in their designated storage case anytime they aren't in use. This will help prevent them from getting lost and having to wait several weeks to get a replacement.
Once you start Invisalign, these tips will help you see your beautiful, straight, and healthy new smile sooner rather than later. If you haven't scheduled your initial appointment, then there is no time like the present to do so!
About the Practice
For our team at Simply Pediatric Dentistry and Orthodontics, helping patients achieve their dream smiles is extremely rewarding. Our skilled orthodontists offer Invisalign to ensure that the process is as discreet and comfortable as possible. Plus, thanks to our decades of experience, we can share lots of tips and tricks along the way. If you have a question about Invisalign or would like to set up an appointment, don't hesitate to visit our website or call (603) 635-1166.